fallibility
Winner of the 2008 Many Voices Prize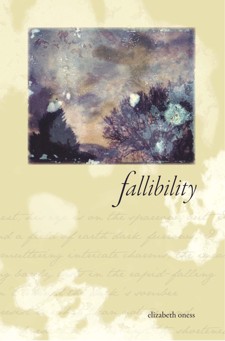 Fallibility
poetry by Elizabeth Oness (New Rivers Press)
"Elizabeth Oness' Fallibility is the work of an accomplished writer whose precisely-observed, formally-dexterous poems are fed by deep rivers of feeling, dark clear waters that quench and renew. I am as deeply moved by the accuracy of her observations as I am by the nuances caught by her deftly-tuned ear. Her art is matched by a rare honesty, a willingness to confront the urgencies living beneath the surfaces of things, to plumb the difficult truths of family and love, truths unavailable to ordinary language, transformed into beautiful lyrics which themselves have the power to change us--ever so slightly—the way 'the elemental marks us/in increments of dark and light//as tree rings score the weathers/of their growth.' Fallibility is a rich and deeply-satisfying book."
—Michael Hettich, judge's note, Many Voices Project
"In her first full-length collection, Elizabeth Oness shows herself s poet with an eye well able to vividly scan the surfaces to reveal the secrets hidden just beneath them, as well as 'the delicate gap between this world and the elusive one, the one that waits for our attention.' It's a pleasure to find poems at once patient, painterly and quietly but fiercely elemental in their encounter with the complex inheritance of history, religion, place, and the enduringly insistent bonds of family. In Irish legend, Fionn asks 'What is the finest music in the world?' And he answers 'the music of what happens: The poems of, fallibility allow us to overhear the poet's 'sense of / listening in the silence, or not listening / but knowing, the still song of I am....' Simply, confidently, they summon us to pay attention."
—Daniel Tobin, author of Second Things
"'Some things are most / bright before their passing,' writes Elizabeth Oness in a poem entitled 'Elegy.' She could have added, based on the implied narrative and lyric promise of her book fallibility, that all things of supreme value are most bright before they disappear. This is the most personal and poignant work this gifted storyteller has yet written. Its clarity is its conscience; its honesty its moral authority."
—Stanley Plumly, author of Posthumous Keats: A Persossal Biography and Old Heart
Twelve Rivers of the Body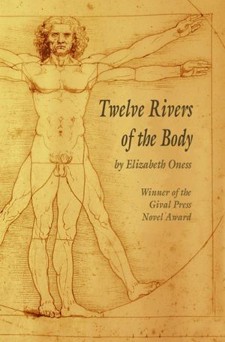 Twelve Rivers of the Body
by Elizabeth Oness (Gival Press)
Winner of the Gival Press Novel Award
Overwhelmed by the growing AIDS crisis and the pressures of medical residency, Elena Tristani abandons an outwardly successful life and takes a job writing grants for The Spirit Gate, a holistic clinic that treats recovering drug addicts with acupuncture. Fascinated by the clinic's founder, who treats Georgetown's elite and drug detox patients with the same imperturbability, Elena reconsiders her own views on medicine and health. As Elena comes to know the world of the clinic, she is seduced by an ancient Chinese medical text, The Yellow Emperor's Inner Classic, and begins to see a different relationship between Eastern and Western medicine as well as a new path for herself.
"Twelve Rivers of the Body is an engrossing, provocative portrait of one woman's odyssey to find meaningful work and her place in the world. Elizabeth Oness's graceful style is at once precise and luxuriant as she follows Elena from her disillusionment with allopathic medicine into the realm of acupuncture and Taoist philosophy… Twelve Rivers of the Body is an examination of contemporary health problems, a meditation on urban community, and a moving spiritual journey."
—Valerie Miner, author of After Eden and The Low Road
Departures
Departures
a novel by Elizabeth Oness (Berkley Books)
Award-winning writer Elizabeth Oness presents her debut novel with this "vivid, deeply realistic portrait of contemporary women"* in "swift, unerring prose."**
"I'm taking a trip. . .out of the country. . .Don't look for me. Try not to worry. Love Mom." When their mother disappears, sisters Pagan, Prana, and Zhikr are shaken. As a single parent, their mother has always been a stable, constant presence and each of them needs her now.
Pagan's second pregnancy has turned into a harrowing dilemma. Prana is devastated when her long affair with a married man starts to fall apart. And Zeke has become—reluctantly—the only sober caretaker for her girlfriend's children.
In their mother's absence, the sisters piece together fragments of her past to realize what it might have cost her, a child of the sixties, to sacrifice her free-spirited ways in order to raise them in a comfortable Westchester town. In the face of difficulty—and without her mother's presence—each sister must reflect her mother's resolve and do what is necessary to preserve herself.
"An affecting and absorbing novel of loss and recovery. . .A wide audience should find its way to this artful novel by. . .a young writer of considerable promise."
-**Jay Parini
*Julianna Baggott, author of Girl Talk
Articles of Faith
Articles of Faith
short fiction by Elizabeth Oness (University of Iowa Press)
In her award-winning collection, Elizabeth Oness travels a vast emotional terrain to explore the various aspects of faith, from the traditional religious faith of a Young man whose mother becomes engaged to born-again Christian to a couple whose daughter perishes in the Waco massacre; from the personal moral struggle of a young woman trying to find closure years after the suicide of her closest childhood friend, to a young man whose values are called into question when he forms an unlikely friendship with a homeless man.
"Elizabeth Oness's Articles of Faith has a strange and amazing range: her work is impressive for what it risks, and even more for what it achieves. She spares her characters nothing, because she loves them; she spares the reader nothithing either, which is, of course, the mark of a real writer. Each story is a moral puzzle, as weighty and intricate as a novel; each character is complicated and real. She is a tremendous and heartfelt and gutsy writer."
-Elizabeth McCracken, author of The Giant's House
Elizabeth Oness's poems and stories have appeared in The Hudson Review, Crazyhorse, Glimmer Train, The Georgia Review, The Gettysburg Review and other magazines. Her stories have received an O. Henry Prize, a Nelson Algren Award, and her story collection, Articles of Faith, was selected for the 2000 Iowa Short Fiction Prize and the Ann Powers Fiction Award. Her first novel, Departures, was published by Penguin in 2004. Twelve Rivers of the Body won the 2007 Gival Press Novel Award. A poetry manuscript, Fallibility, won the 2008 New Rivers Press Prize. She is an Associate Professor of English at Winona State University, and directs marketing and development for Sutton Hoo Press.