SUTTON HOO PRESS was founded in 1989 by poet C. Mikal Oness while he was a student at the Iowa Writers' Workshop and an apprentice at The Windhover Press of K.K. Merker. Oness' first publication was Bread Without Sugar by Gerald Stern.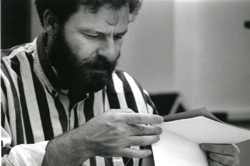 Photo: Rachal Kolvenbach
C. Mikal Oness
In 1991, Oness moved to Potomac, Maryland where he worked as the Toi Shan Fellow at The Taoist Center in Washington D.C. At The Taoist Center, Elizabeth McGrath and Dr. Jing Nuan Wu were translating The Yellow Emperor's Inner Classic, an ancient Chinese medical text, and Oness was commissioned to print Selections from the Yellow Emperor's Inner Classic for The Press in the Trees. In May 1992, C. Mikal and Elizabeth Oness moved the press to Columbia, Missouri to pursue PhDs in English. For the next five years, it was the goal of the press to produce at least one title a year while the Onesses balanced time between graduate studies, their own writing, and having a child.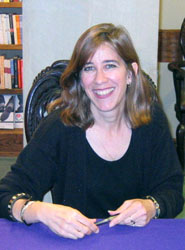 Elizabeth Oness
These years saw the production of Jack Casey's Colorless Odorless Tasteless, Michelle Mitchell-Foust's Poets at Seven, Pamela McClure's Holding the Air, Christopher Buckley's Still Light, and Lynne McMahon's Not Solely Mourning.
In 1997, Sutton Hoo Press moved to La Crosse, Wisconsin, where C. Mikal Oness accepted a position at the University of Wisconsin-La Crosse as an assistant professor of English. In La Crosse, the press released books by Gary Young, Marvin Bell, and Charles Wright. Elizabeth Oness took over the task of marketing and development for the press.
Since settling in the upper midwest, the press has released a book every Thanksgiving, Valentine's Day, and Memorial Day, with various ephemera in between. Sutton Hoo Press publications are now included in over 140 libraries and private collections.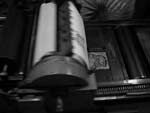 In 2001, Elizabeth Oness accepted a position as assistant professor of English at Winona State University in Winona, Minnesota, where the Onesses live with their son Jensen Mikal. The Vandercook 4 and cases of type are now situated in their home. C. Mikal Oness left his post as an associate professor in order to write, print, and father full time. In the early years in Winona, Sutton Hoo Press released In the Palm of Space by Herbert Scott, Praise by Philip Levine, winner of the National Book Award and Pulitzer Prize, Rhumb Lines by Anthony Deaton, A Brief History of Punctuation by Maurya Simon, a Minnesota Book Awards Finalist, The Book of Ruth, and Peter Everwine's Speaking of Accidents.